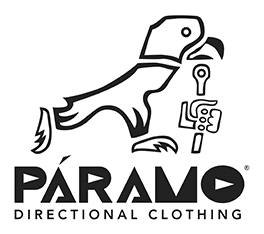 One of the most innovative brands in the mountain, travel and exploration market, Páramo has provided high performance technical clothing for all environments for over 20 years, combining uniquely directional Nikwax fabrics and ingenious, practical designs.
It's often when the weather gets interesting and the environment is extreme that outdoor photographs become spectacular.
The Páramo range includes:
Directional waterproofs that not only keep the weather out but remove moisture from perspiration more effectively too. They are soft, quiet and very durable;
Fleece/windproof combinations which offer exceptionally versatile weather protection that is ideal for the traveller;
High performance baselayers for warm and cool conditions;
Synthetic insulation to put on quickly over your waterproofs;
Lightweight trek & travel shirts and legwear that protect against UV and biting insects.
Páramo is a leading British outdoor clothing producer. All Páramo products are rigorously tested and Páramo is the leading clothing of choice for Mountain Rescue Teams and expeditionary workforces such as the British Antarctic Survey, as well as being the choice of many photography and nature professionals travelling all over the globe.
The innovative Nikwax Analogy® Waterproof fabric offers a high performance alternative to conventional waterproof membrane fabrics which rely on perfluorinated compounds (PFCs) for waterproofing. The risks to the environment and to human health from PFCs have been outlined by Greenpeace, and in January 2016, Páramo became the first outdoor clothing company to sign up to the Detox commitment, ensuring hazardous and polluting chemicals are excluded from clothing manufacture. As a result, Páramo received the Guardian Sustainable Business Award in 2016. Furthermore, all Páramo garments are 100% recyclable through the Páramo Recycling Scheme.
Páramo production is based predominantly at the Miquelina Foundation in Colombia, South America, which helps socially disadvantaged women create a better life for themselves and their families. Many thousands of women and their families have benefited from Páramo's involvement during the 25 year partnership. From the beginning of 2017, all Miquelina's production has been guaranteed Fair Trade by the World Fair Trade Organization.
2020 PRIZES IN DETAIL
The Travel Photographer of the Year 2020, and the winners of the 'One Shot' categories – Colours of Life, Islands and Solitude – will each receive a jacket and trousers from Páramo.
---
Visit the Páramo website at: www.paramo-clothing.com or get in touch at info@paramo.co.uk
Tel (UK): +44 (0) 1892 786444
Páramo Ltd, Unit F, Durgates Industrial Estate, Wadhurst, East Sussex, TN5 6DF, UK